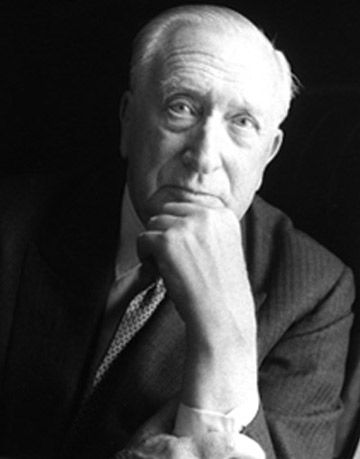 Sir William Walton OM (1902-1983) is considered as one of the greatest English composers of the twentieth century. A determining factor in the development of his career was the patronage of the eccentric Sitwell family (the siblings Edith, Osbert and Sacheverell) who took him under their wing in 1919 when he left Oxford.
From his humble origins in Oldham, Lancashire, he was thus catapulted into the elegant and sophisticated world of London's high society. His best known work in this period is Façade (1922), a brilliant musical composition, with words by Edith Sitwell. He composed his Symphony No. 1 in 1936. During the war he wrote much music for the cinema, including the splendid score for Laurence Olivier's film 'Henry V'.

His private life included a relationship that lasted for fifteen years with a society lady somewhat his senior, Alice Wimborne, who helped him to cultivate his inspirations and create for himself a career. Alone again in 1947, whilst on a visit to Argentina he met and just a few weeks later married Susana Gil, who was a good 22 years younger. The couple decided to live in Italy which William had visited in 1919, and where in 1939 he had written his Violin Concerto for the musician Jascha Heifetz. Desiring to enjoy the light and the peace of the Bay of Naples, the couple chose the island of Ischia. Here they lived for the next 35 years in the property they created and developed, La Mortella, where today William's ashes are kept.

His most famous works are the three concertos, for the viola, violin and cello, the monumental choral work Belshazzar's Feast, the two symphonies, the lyric opera Troilus and Cressida, a comic opera, The Bear, the film scores for Laurence Olivier's three Shakespearian films: Henry V, Hamlet and Richard III. He wrote marches for two coronations: Crown Imperial for King George VI and, for Queen Elizabeth II, Orb and Sceptre, and a coronation Te Deum.

He had a period of great success in the 50s and 60s in the United States, where in 1955 Gregor Piatigorsky commissioned the Cello Concerto and in 1957 George Szell from Cleveland asked him for the 'Partita for Orchestra'. He also made a memorable recording of his Symphony No 2. Amongst the other musical works commissioned by famous orchestras and soloists are the Capriccio Burlesco of 1968 for André Kostelanetz on the 125th anniversary of the New York Philharmonic; in 1969 the Improvisations on an Impromptu of Benjamin Britten for the San Francisco Symphony and, in 1981, Prologo e Fantasia for Mstislav Rostropovich and the National Symphony Orchestra of Washington.

In 1951 he was knighted and in 1967 Queen Elizabeth conferred on Sir William the further high honour of the Order of Merit.